×
Matrrix offers professional hypnotherapy certification programs for age groups 21 onwards. Dr. Paras, a certified Hypnotherapist (Level 4), will be personally conducting every session. This course meets all the requirements set by the ACHE (American Council of Hypnotist Examiners) hypnotherapy. Level 101 is apt for beginners new to the field of hypnotherapy. It includes all of the details mentioned below.
We will carefully explore the power of the subconscious mind, initiate meaningful personal transformation, lay an emphasis on healing yourself, as well as demonstrate hypnotic testing. Class hours include experiential learning and homework will be assigned to all students. The same needs to be submitted as per deadlines outlined. This will be counted for the certification process.
For questions, write to [email protected] Seats are filling up fast!
Complete confidentiality maintained.
Includes personalized attention by Dr. Paras.
Maximum 19 students per batch , so hurry and book your seat now. All international students are requested to inform us at the earliest about the requirement of letter for visa approval. Don't forget to inquire about our accelerated programs that includes Level 1 and 2 that will be held continuously at a stretch. This is suitable for students looking to complete two levels at a continuous pace. Click here to know more.
Matrrix also offers higher levels of hypnotherapy courses. Do view them here. You can use our secure sign-up page to book your seat. All classes will be held in Mumbai, India.
Want to read more about hypnotherapy? Do view our blogs section. Don't forget to download our latest eBook and feel free to access our podcasts and videos.

Activate The Power Of The Subconscious Mind
Initiate Meaningful Personal Transformation

Heal And Transform Yourself

Nature Of Hypnosis And Suggestion
Common Misconceptions About Hypnosis

Brief Relevant Historical Information

Pre-Induction Interview & Assessment

Establishing Realistic Goals

Induction And Deepening Techniques

The Inner Sanctuary

Developing Hypnotic Rapport

Structuring Hypnotic Suggestions

Hypnotic Testing

Post-Hypnotic Reinduction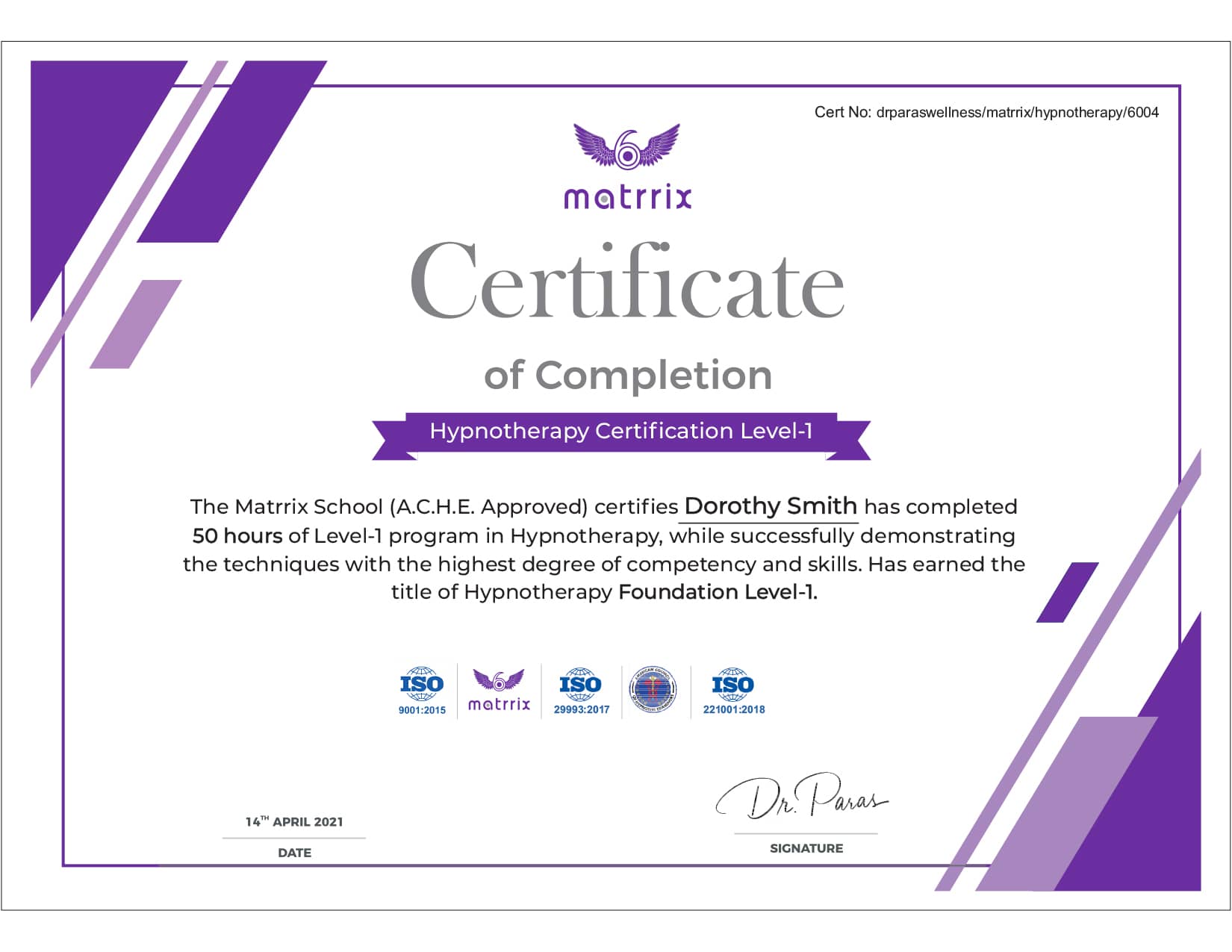 | Course Name | Domestic Price | Discounted Price | International Price | Discounted Price | Quantity | Registration |
| --- | --- | --- | --- | --- | --- | --- |

Matrrix, led by Dr. Paras, announces latest hypnotherapy certification courses in Pune, Mumbai and on a global level. Join now to embark on your professional journey and master the elements of this exciting therapy.